Alfredo de la Cruz, director of Punto Verde Witiza tells us everything!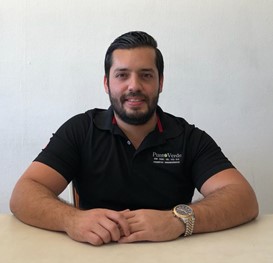 What have been the most important challenges in your professional life?
The most important challenge was to maintain the spirit to continue working despite the adversities and to inject in the awareness of the restaurateurs the importance of consuming biodegradable disposables.
What projects or plans do you have for the future?

One of our future projects is to create an application and expand our services to other cities in the country.
Can you share a tip, habit or advice that you follow in your professional life?
A habit that I have always had has been the separation of garbage, such as: cardboard, aluminum, glass and PET. Small actions make big changes.

Eng. Manuel García y Carmen González
Construction Committee of the Los Altos School Center, Zapopan
Construction Supervisor
"During the execution of its assignments, AVANTRA proved to be a company with a high sense of responsibility and technical solvency, always attentive and with an attitude of service and willingness".

Lic. Mauricio Fernández
Concretos Moctezuma (Moctezuma Concretes)
Pacific Regional Manager
"We awarded AVANTRA the Merit Award for the Architectural Use of Concrete for being an innovative and effective builder in the face of industry demands".

Jaime Castro
Golf and Beach Resort, Mazatlán
General Manager of Estrella de Mar (Starfish)
"We recommended the company AVANTRA, which participated in the construction of our third three-building condominium complex."

Tchr. Miguel Ferrer
Plaza Del Sol (Sun Square), Guadalajara
General Manager
"AVANTRA participated proactively in all phases of the project, proving to be responsible, with technical solvency and always with an attitude of service to the client".

Eng. César Maggiani
Universidad Panamericana (Panamerican University), Zapopan
Project Manager
"AVANTRA is a highly responsible company that always shows great cooperation during projects. We are totally satisfied with the result which was delivered on the agreed date."

Eng. Víctor Muñoz
PETONE
General Manager
"AVANTRA is a very satisfying company, professional and focused on a philosophy of ecology. I am very pleased that AVANTRA is surrounded by young collaborators, who helped us to successfully conclude the project in a very pleasant atmosphere."

Jesús Rodríguez
Colegio Altamira (Altamira School), Jalisco
Institutional Development Management
"AVANTRA exceeded our expectations by far for their human sense and their commitment to our company. I can only thank all their staff that from the beginning and until the end of the project, they were always attentive and the result was a work of high standards. I am convinced that AVANTRA is an honest, responsible company with a great human quality".

Eng. Rodrigo Navarro
Universidad Panamericana (Panamerican University), Zapopan
Civil Engineering and Administration Career Management
"We had a very clear idea of the project we wanted to build and AVANTRA helped us to land our needs. During the construction process, they were always very close to us, the client. They were transparent and we were able to solve the problems together. Today, our students are enjoying the benefits."